Construction in the Forest
31 January 2017
If you go down to the woods today........ you may hear the sound of a JCB! Just within the forest gate, we are constructing a lorry turning area, in preparation for harvesting later in the year. It will also double as an informal car park for ACF volunteers.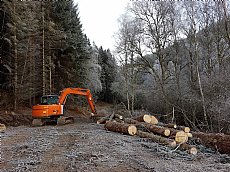 Make a donation to Aigas Community Forest securely on-line at Virgin Money Giving.
Volunteers needed!
ACF has now received consent from planning for the construction of workshops, tractor and equipment shed and s...
More >>
GDPR
General Data Protection Regulations Look under Welcome/Governance for Aigas Community Forest Data processin...
More >>